Provide Benefit Support With Built‑In Options
Your clients trust you to bring the best healthcare solutions to the table, presenting the plans most qualified to fit their needs. Analyzing a wealth of options is crucial when it comes to healthcare—a task we can help members accomplish on your behalf.
We Don't Believe In One‑Size‑Fits‑All
We help members understand their right to choose. Our Nurse Navigators are trained to educate members on every viable option at their disposal and assist them in choosing a lower cost provider that works best.
Powered By Data-Driven Analysis
We believe important care decisions should be made based on the facts—not on generic data or industry averages. Our cost comparisons are generated based on actual customer claims data from our partners.
Savings For Members & Employers Alike
Facilitating cost-effective decisions directly with members not only presents new savings opportunities for members—it helps employers boost member engagement and cut down on healthcare expenses, too.
Why Insurance Professionals Recommend Us
A healthcare solution is only as successful as the functionality it provides to members. With personalized support and savings bonuses, we'll connect your clients with a healthcare advocacy program that adds value to their existing benefits plan—and money back into their pockets. Here are fun facts about Harlowe to bring to your next meeting.
One-On-One Support From Nurse Navigators

When members need to schedule a procedure or seek answers about their next visit, our team of experienced nurses can assist with finding a lower cost provider, scheduling appointments, prepping medical records, and more.

Full Transparency With Accurate Healthcare Pricing

Healthcare pricing shouldn't be a guessing game. We provide accurate financial information to keep members informed—updated monthly from actual paid claims data.

Cash Incentives For Lower Cost Solutions

We help members stay on budget and earn cash rewards—even if they have no out-of-pocket costs. When they choose a lower cost provider, we'll issue a cash reward based on their savings.

Access To Harlowe From Anywhere

Wherever they go, members hold the power to connect with Nurse Navigators, compare lower cost providers, and earn and track rewards in one easy-to-access platform: the Harlowe mobile app.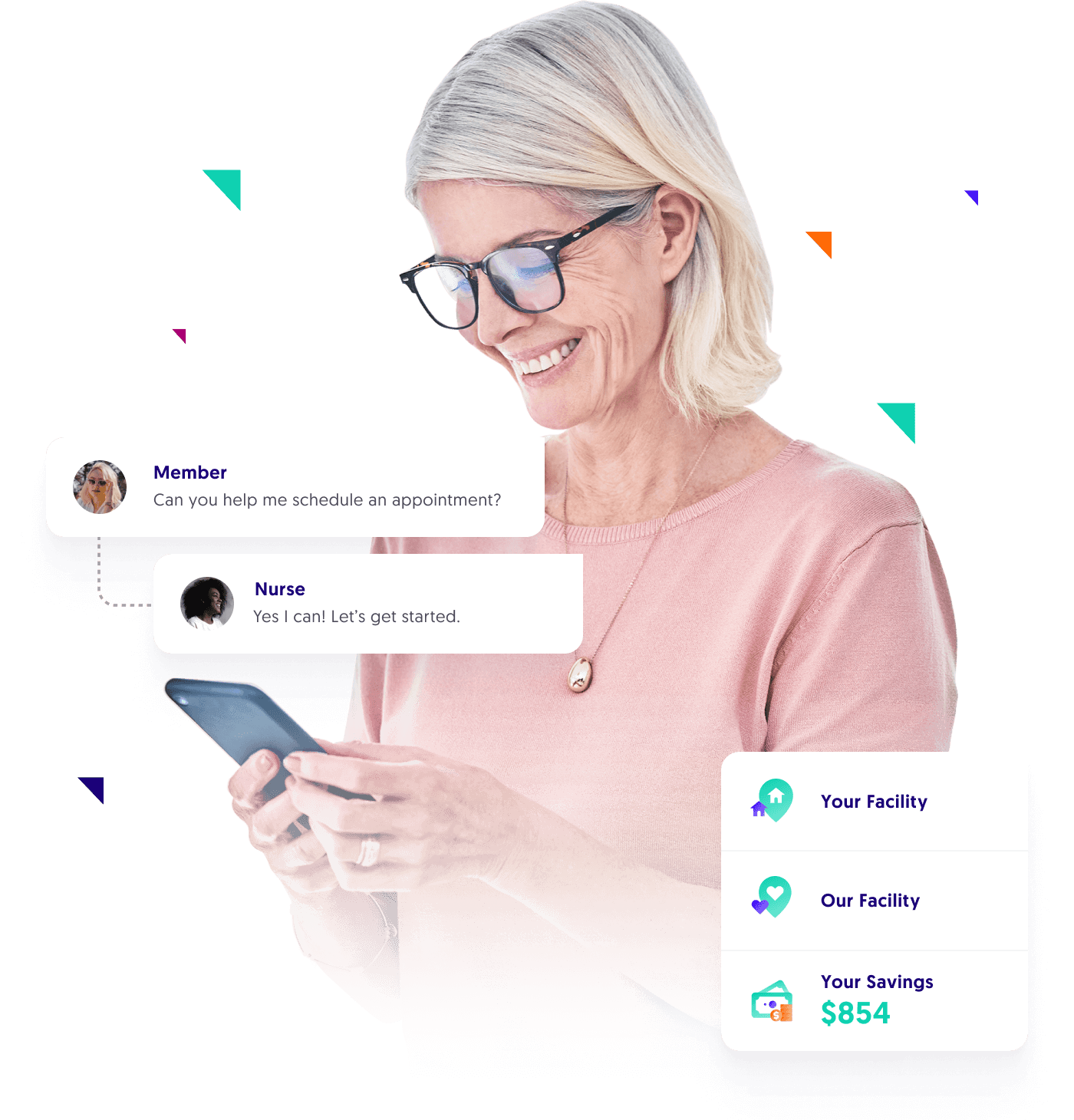 Let's Foster Better Client Relationships Together
We'll deliver expert insights, personalized support, and cash rewards on your clients' behalf—and help you eliminate roadblocks in their path to informed, cost-effective health care decisions. Connect with us to learn more.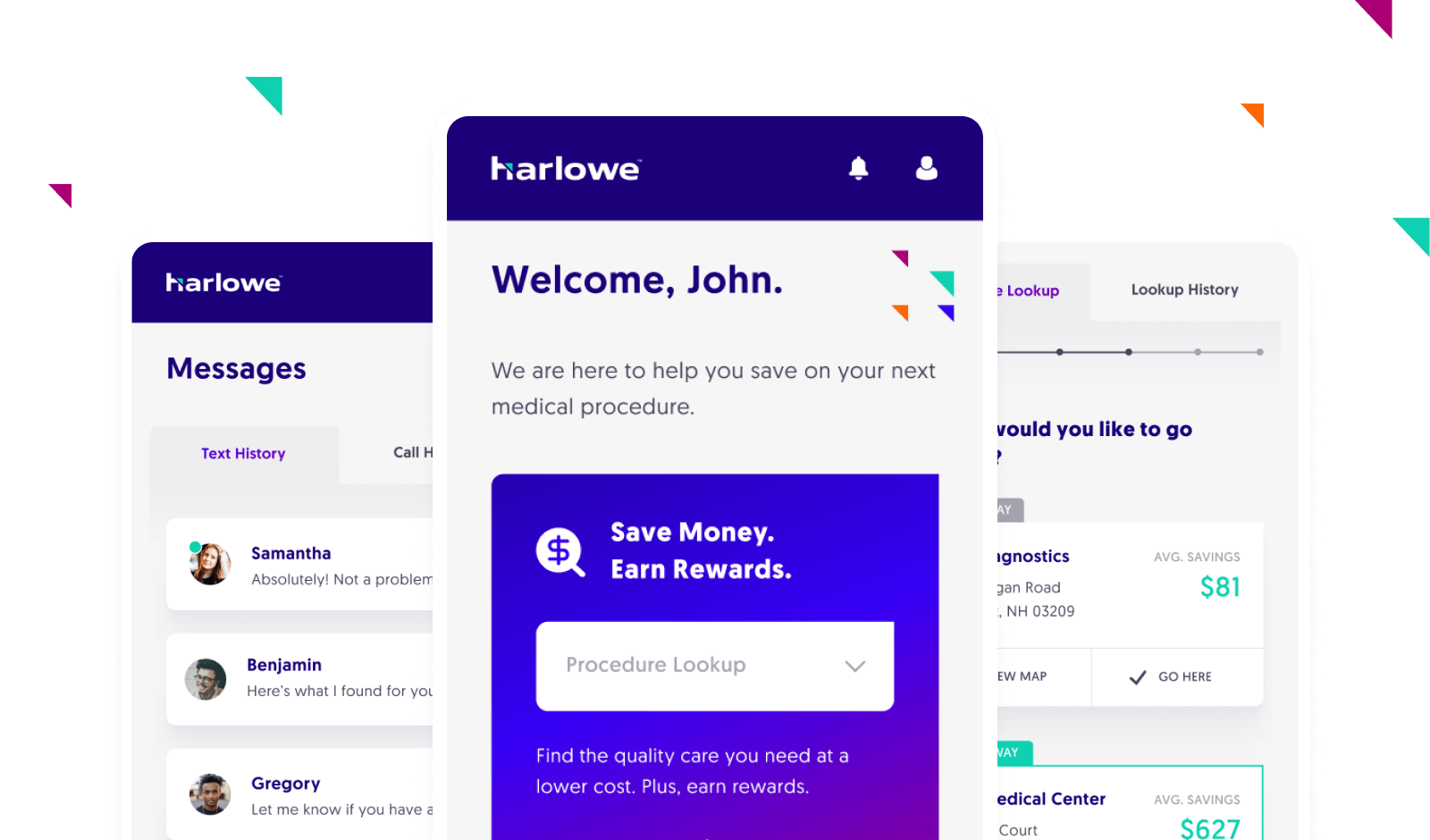 FAQ
Anticipate your clients' next questions. Before you meet about Harlowe, check out our frequently asked questions—generated from member and employer inquiries.
How can Harlowe help my clients?
We incentivize cost-effective decision-making and remove the obstacles that tend to inhibit Members from making changes in their outpatient care plans. Members experience reduced out-of-pocket costs, less administrative burden, and receive rewards for their engagement. The organization sees reduced claim costs, excellent customer service, and engaged members getting the care they need. You, the broker, see alignment with your strategic consumerism goals, plus increased client satisfaction and retention.
What services do Harlowe's Nurse Navigators offer?
In addition to helping members choose a lower cost provider for an upcoming test/procedure, we assist with appointment rescheduling, medical record transfers, and updating prior authorizations as needed. We are also available to answer any questions members may have about their appointment.
How are the rewards calculated?
In most cases, rewards are equal to 20% of claim cost savings generated by the Member's decision to receive services from a lower cost provider identified by our Nurse Navigators. Simply, the member's reward is equal to 20% of the savings between the price at the original provider and the price at the lower cost provider.*
There are some circumstances that cause Member Rewards to vary:
If Harlowe identifies less than $50 of claim cost variance within the geographic area determined by the member, since there are no lower cost providers available, there is no savings nor reward.

If the savings generated by the Member's decision exceed $10,000, the maximum Member Reward of $2,000 applies.
*Some employer group reward schedules may vary from this standard. Please contact Harlowe to confirm details.
How do I inform my clients about Harlowe's services?
We'll provide information about our resources for you to share with your clients, including important details about member support, downloading the Harlowe app, and rewards eligibility.  We will also work with you to learn more about your organization's communication styles and preferences to support your outreach campaigns accordingly.
Is the Harlowe app secure? How can I reassure my clients that member information is safe with Harlowe?
The Harlowe app is powered by our private, HIPAA compliant data center. Learn more about our technology and redundant cloud infrastructure here.
What does the onboarding process with Harlowe look like?
We don't believe in one-size-fits-all solutions. Our implementation & onboarding timeline depends on your program selections. Further details, inclusive of an onboarding roadmap and collaborative communication charting, will be provided upon partnering with us. 
My clients have questions about Harlowe's services. Where should I direct them?
Harlowe Nurse Navigators are available Monday-Friday, 8:00am-6:00pm ET. We are available by phone at 844-99HARLOWE, by email at nurses@harlowehealth.com, by live chat on our website or on our mobile app. There is also helpful information about member services on the Members section of our website and on our FAQ.